Yesterday, we received our first snowfall of the season.  It looks like we received between 7 and 8 inches with some snowdrifts over 10 inches high.  The trees are snow covered, and our property looks like the cover of Hallmark Christmas card.
There is something about freshly fallen snow that brings about a feeling of peace and tranquility when we look at it from inside our warm homes.  Those feelings quickly change when we have to go out and shovel our driveways or when the kids wake up and want to go outside.  Sometimes, we spend more time getting them all dressed and ready to go outside than the time they actually stay out there.  Nonetheless, their excitement is almost always contagious, and takes us back to our own childhood memories of playing in the snow.
When we were growing up in Lancaster County, we had some of the best and biggest snow storms.  We would get dressed in our "hand-me-down" snowsuits.  Then, we'd put old bread bags on our feet before putting them into our boots to help our feet from getting wet.  While we would spend hours sledding, building forts and having snowball fights with the kids in the neighborhood, the best times were spent building snowmen with our dad.  Here's a picture from the early 1980's of one of our masterpieces.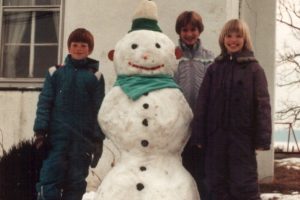 We hope that with this first snowfall of the season, you find yourself enjoying its beauty and remembering fun times from the past.
#firstsnowfall  #childhoodmemories  #christmascard